Art Gallery Show Aug.25-Sept 18, 2010
"Toni Carroll's Fantasies in Fabric and Fiber" show
The Haywood County Arts Council invited me to present a one woman exibit and sale of my work in their Gallery 86 in Waynesville, NC. The show opened Aug. 25 , 2010 and ran through Sept. 18. Artist Reception was Friday evening Sept. 3, 6-9pm, during Art After Dark. Here are a few highlights. Click on any photo above to see more.
"Wind and Water"
2008 Bernina Fashion Show "Rendezvous"
Photos by Kim Coffman, used courtesy of Quilts Inc. and Bernina, Inc.
For "Details and Techniques"... Click on any of the three photos above, or Click HERE.
For "Inspiration and Description"... Click HERE
Previous Bernina Fashion Show Garments
Click each photo for more pictures.
Autumn in the Smokies

2006

Faberge Garden

2005

2003

A Florida Fantasy, Changing Seasons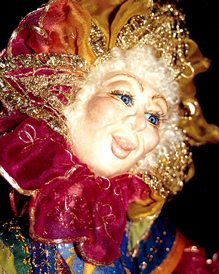 Click on each photo, or "GALLERY" for more detailed pictures and garments.
Inspiration
Art is all around you. Whether it is man made art or mother nature, our senses are constantly filled with delicious colors, shapes, sizes, textures and combinations of all of these. You have only to open your eyes to feast on a banquet of beauty and inspiration. I draw ideas from everything surrounding me. There are as many magnificent colors in a rusty pipe or a rock covered in moss, as there are in a breathtaking rose. I use fabric for my canvas and thread and fiber as my paint. Educated in Fine Arts and Interior Design, sewing since I was 8yrs old (a verrrry long time ago!), and teaching wearable art for more than a decade, I draw on my technical skills to bring my ideas to life, and put them in a form others can relate to, be inspired by, and hopefully, enjoy.
On the following pages, please join me for a stroll through Toni's Fantasy World of Fiber Art. You will see photos of many of my three dimensional art projects and, hopefully, be inspired to create your own.
Trunk Show
My Trunk Show is a real favorite with large groups. It gives viewers the opportunity to get up close and personal with many of the garments and projects I have created. I describe all the techniques used, answer any and all questions, and you get the opportunity to come up after the show and examine all the garments up close. A visual stroll around the various Galleries on this web site will give you a sampling of the Show, which could be coming to a store or Guild near you. To schedule a Toni Carroll Workshop or Trunk Show, please click on "Contact Toni" and call or write for details.
*Special thanks to David Walters for his knowledge and patience in helping me get this website up and running.
Site designed and maintained by Toni Carroll.
Updated 1/10/11